The Women's Marches are not for us–at least, not the big ones like L.A.'s. We decided that last year, and then Mr. Sandwich suggested we make a last minute-try, because he could see how much I wished I were there, standing next to my friends to support our beliefs. And it was literally last minute; we threw backpacks together, bundled Baguette into the car, and set out.
We never made it. The Metro Red Line trains were too crowded; while the other riders waved us on, the crush clearly was too much for Baguette to manage. But I tried my best, and I got to cheer on and support other marchers. I feel like I got to be a part of it on some level.
This year, we didn't even try. I couldn't imagine that we'd been any more successful than we had been last year, and the photos my friends are posting on Facebook confirm that, indeed, this event is not right for Baguette. Instead, we made an almost last-minute decision to take her to the snow, of which there has been precious little in area mountains this year.
I decided to make a donation to an organization or two, and I figured that would be it.
But then another friend posted that she had gone to the Redondo Beach march. And I realized that, as always, there are more options than the ones right in front of me. The L.A. march isn't right for us. But maybe there are smaller events that would work better for Baguette.
There's a lot of 2018 left–but let's see what 2019 brings.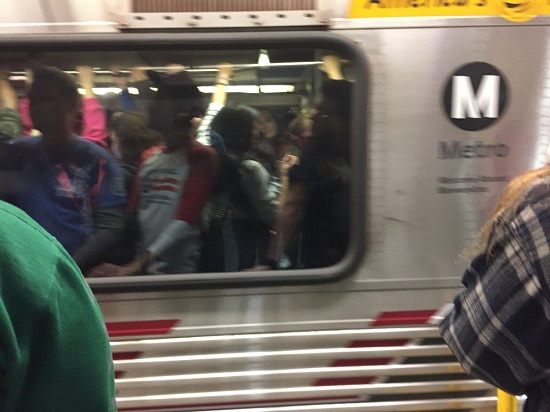 Post inspired by Cloud of Wandering Scientist.