Today, Baguette's Daisy troop had an outing to a UCLA Gymnastics meet. I've been thinking about taking her to see a gymnastics meet, so this seemed like a great opportunity. She'd get to see some of her friends and have a new adventure.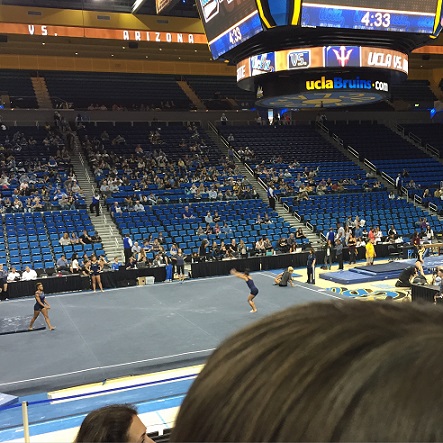 We made it through the warmup, and Baguette was done. There were two factors.
First, she didn't want to sit in the stands. She wanted to go down onto the floor with the college teams, because clearly they were doing something active and fun, while she was just sitting there.
Second, apparently now every athletic competition is a concert. My gymnastics viewing is pretty much limited to the Olympics, during which I can hear the equipment flex at moments of impact. But from well up in the stands in UCLA's Pauley Pavilion, we got an overwhelming combination of music, announcements, cheers, and more. As we learned later, it was a bit much for the neurotypical girls, too.
So we left our seats and walked around the concourse for a bit, to see if we could cajole her back in once the actual meet got underway. Turns out? We could not.
Fortunately, we had a Plan B: UCLA.
Baguette loves the campus. We've taken her there any number of times over the years, and she runs around it like she owns the entire place. She seems to be learning her way around; often, it's clear that she knows where she wants to go and how to get there, and we just follow her lead.
So we did that. We went up staircases and down walks and through buildings and plazas. We watched the marine layer come in, bringing the fog ever closer from the west, even though the campus itself was still bright and sunny. And after a couple of hours, she asked to go for a ride in the car.
It was a great afternoon. Maybe not the one we expected, but great nonetheless.
It was what worked, and it worked well.