Sponsored: I received a free Advance Reader's Copy of The Emerald Key in exchange for writing a review. All thoughts and opinions expressed are my own.
So one of my friends has written a book! Co-authored, actually.
The Emerald Key, by Mark Frederickson and Melora Pineda, is the story of a group of friends who discover a journal and accidentally open a portal to another world. The main characters, Penny and Laci, are life-long friends who anticipate a dull vacation and an unwelcome family wedding, but find themselves transported to another reality filled with danger and dragons.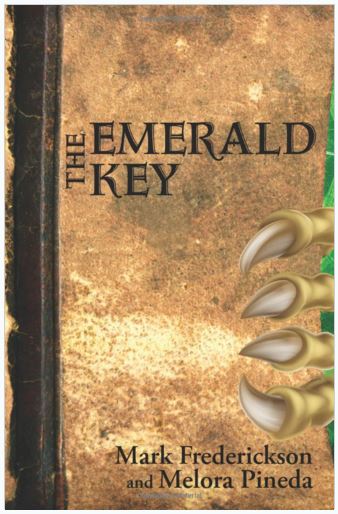 I enjoyed the book–it's fast-paced, with lots of action, and the characters are likeable. And while Penny and Laci and their friends go through a number of trials throughout the story, it seems like an adventure that tweens might actually imagine they want to have.
I was curious to get some of the story behind the story, and Melora granted me an interview.
1) What was your inspiration for The Emerald Key?
Both Mark and I have tweenage daughters. His daughter is extremely athletic, and I have on occasion, had to threaten mine to get her to put her book down and meet basic needs, such as eating and showering. Our goal was to write a story that would entertain their age group, but also have a little bit of each of them in it.
2) What made you decide to write a book as a co-author, and how did you develop a process that made that work?
Mark and I had worked on a treatment for a children's show a few years prior to starting The Emerald Key, so we knew we worked well together. Originally we decided to write a screenplay aimed at a middle-grade audience, but by writing it as a book, we created the source material first. Our process was countless hours on the phone hashing out ideas. I took notes and wrote the first version of each chapter. One by one I sent them to him and he expanded them. Next, we spent an entire weekend reading the book aloud and laughing at some of our blatant mistakes, such as the repeated use of our characters "starting" to do something instead of just doing it. I edited per our crazy weekend and then submitted to various publishers.
3) Laci and Penny have a close and supportive friendship, in spite of–or perhaps because of–the many ways in which they are different. How did you develop the characters?
We wanted an unlikely pair of friends to create more contrast in their skills and more challenges in getting themselves out of the mess they landed in. We began with qualities from each of our daughters, but these are fictional characters, so added more differences than actually exist between them.
4) I noticed some references to Norse mythology throughout the book. Were there particular legends or features that inspired you as you wrote?
Although Hallvard's village was not seafaring and the Norse dragons are more serpent-like than the ones found in Botkyrka, we used a lot of Norse mythology to relate to popular culture (thanks, Marvel). We mention Thor and the mythology surrounding him frequently, but Beowulf is an Old English poem and wyverns are considered to be from European mythology, so we clearly played around with various dragon-based myths. By having Hallvard familiar with the same mythology the kids knew, we could bridge the gap between the cultures and create a camaraderie.

5) What would you like readers to take away from The Emerald Key?
I hope this book reminds our readers to search for and have faith in their own strengths instead of comparing themselves to others. As well as believing in themselves, they should never forget the importance of trusting their friends, and that in the end, it's a combination of strengths working together that can overcome obstacles. And beat the bad guys!