Remember the story of "Stone Soup"?
I've always been a little conflicted about that story. Sure, the villagers were miserly with their food stores. So you can read it as the story of how a traveler convinced them to open up and be a community.
But can't you also read it as the story of someone who entered a town, tricked everyone into eating the last of their food, and then left a starving village behind?
Fortunately, one of the main points of the story doesn't involve trickery at all. It simply involves using what you have available.
The other night, I wanted to make soup. In the freezer, I found chicken stock and a variety of frozen vegetables–peas, corn, and spinach, in this case. And in a jar on the counter, I found what I think was linguini (I'm not sure why we had it, since we tend to buy capellini, and since I am not terribly well-versed in pasta varieties, it might have been something other than linguini).
Now, if I'm shopping to make vegetable soup, I might include carrots and bell peppers. But I didn't have time to go to the store, so I used what I had on hand.
I put the stock in a pot and added some water (I hadn't thawed enough stock, I realized after the fact). When it came to a boil, I added the vegetables and broke the linguini into smaller pieces. Once everything was hot and the pasta had softened, I added some salt and pepper–you could, of course, add any other spices you want, but I kept it simple this time.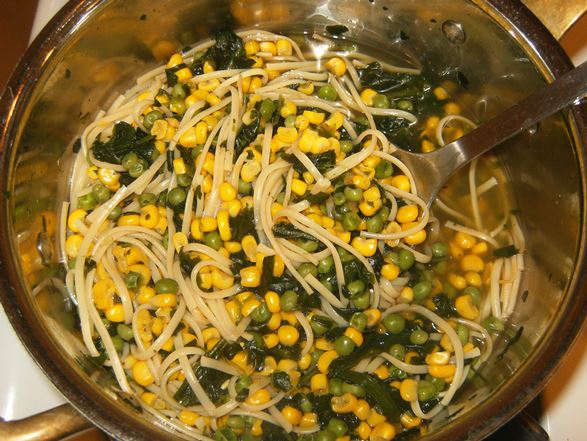 What have you got on hand? And what can you do with it?