I love shrimp. Love, love, love it. Yet for some reason, I almost never cook with it. I'm trying to change that, though, because I have come to the conclusion–quite vocally, if you check with Mr. Sandwich–that I don't like chicken.*
So a couple of weeks ago, we bought a bag of frozen shrimp at Costco. Surprisingly, it was not enough shrimp to feed all of Los Angeles–but we will get several meals out of it. We started last night (well, the night before, because the shrimp had to thaw) with this dish.
First, I cut up some Yukon Gold potatoes into chunks and boiled them until they were cooked, at which point I drained them.
Then I deveined the shrimp (it didn't take as long as I always imagine it will; this stage was done before the potatoes finished cooking). In a skillet, I melted about half a stick of butter and sauteed some minced garlic. You know how people say not to use the pre-minced garlic that you can buy in jars? Well, we use it anyhow. It's easier.
Once the garlic started to brown, I added the shrimp and flipped them once after about 2 minutes. You want to be careful not to overcook them, because they can get tough. Meanwhile, I returned the potatoes to the pan and dry steamed them to remove any additional moisture. After I turned over the shrimp, I added the potatoes to the skillet and tossed everything to coat with the butter and garlic.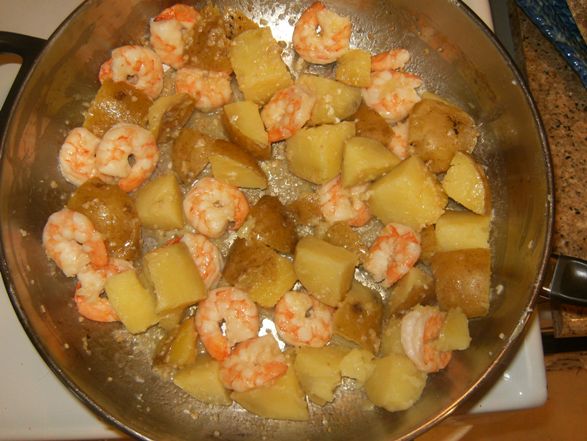 Then we ate it.
You might want to have some vegetables, too. That's always a good idea.
*Except fried chicken. I still like that. Because it is fried.