Recently, some of my friends have said, "You really seem to have this meal-planning thing down. What's your secret?"
I do not have the meal-planning thing down. My secret is that I have a child who is slightly older than their child.
I think there are a lot of us in this boat. We think, "That person over there is doing this much better than I am." And the truth is, they're just working with different circumstances.
One of my college friends has a daughter about two months older than Baguette. She also has an older child and a stepchild. And when her daughter was a baby, every night this friend would post on Facebook about some amazing meal she was making her family for dinner.
Now, I know her. She wasn't doing this to brag about how much better she was at parenting. She was doing it to show that it could be done–that often when you feel overwhelmed, it's in your head. She wasn't boasting, she was demonstrating.
But what I couldn't figure out was this: how was she managing it? Like me, she had a full-time job outside of the home. Like me, she had an infant. Unlike me, she had two other children. So how was she pulling off this amazing feat?
As it turns out, she has a shorter commute. Like, a lot shorter. Mine is an hour each way. Hers is more like 15 minutes.
See what I mean? Different circumstances.
And my own circumstances have changed. Looking back, I'm not really sure what I ate when Baguette was a baby. I cooked for her, but I don't remember what I made for myself. After a while, I found that I could use the crock pot on the weekends to make a big batch of something. That counted as cooking.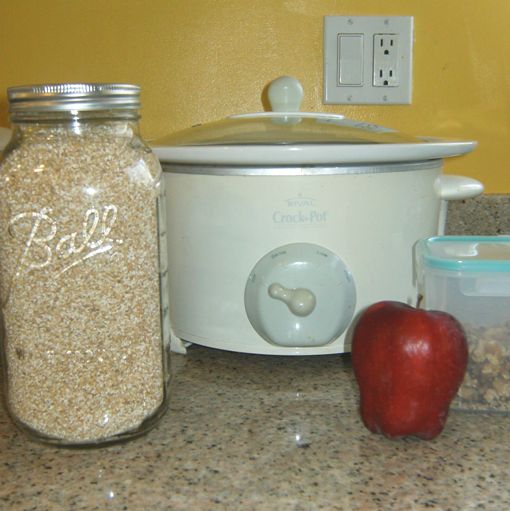 More recently, I've been able to use the stove a little. Last night I made shrimp with bell peppers and zucchini in Red Thai Curry Sauce, served over quinoa. I'm having leftovers for lunch.
I have no idea what's for dinner tonight.
Again, I think there are a lot of us in this boat. So I'm starting an occasional series called "Mom-Friendly Meals." I'm going to write about what I cook, how I choose recipes, what tools I use, how I find ingredients, and anything else that comes to mind. You can follow me on Twitter at @tragicsandwich; I'll be using the hashtag #momfriendlymeals for these posts.
One thing to keep in mind: These are mom-friendly recipes. At our house, we all eat different things. Baguette is going through a picky stage, and while we're trying to move her through that, I'm not going to pretend that she ate the Thai curry with me. And Mr. Sandwich has his own palate, and tends to do his own cooking. So our kitchen is very busy, but we've finally started eating together as a family.
Now we just have to clean off the rest of the kitchen table.