This week's prompt from Ginger at Ramble Ramble? Make us all hungry–what are your top 10 favorite foods (individual foods, or full meals, your choice)?
Well, I do love food. So here goes.
1) Steak. I don't eat it often, but I do like it. My all-time favorite was the dry-aged New York Strip at the Chicago Chop House. But I'm certainly not going to turn down Fogo de Chao's fraldinha or prime rib at Lawry's. Or Ruth's Chris. Or Morton's. Mind you, I'll need a gift card to go to any of these places. Oh, and while we're on the subject–medium rare.
2) Ice cream. I'd meet my poorly identified weight and fitness goals more quickly if I stopped eating ice cream.
3) Potatoes. I love them so much, I once–no joke–gave them up for Lent.
4) Mu shu pork. This is one of my key comfort foods. I don't need the pancakes.
5) Pancakes. Although I love them beyond mu shu. I'm still working on my perfect recipe, but that's okay, because it means I get to eat pancakes.
6) Chocolate-chip cookies. I make the recipe on the back of the Nestle package, with some slight variations. I could eat these all day, which is why I rarely make them.
7) Corn. Corn on the cob. Corn in soup. Corn pudding. Creamed corn. Fritos. Pass the corn.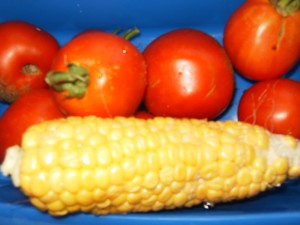 9) Clam chowder. I like the thin milky, buttery kind, not the thicker kind, although I'm certainly not going to turn that down if you offer it to me.
10) Vanilla cupcakes with vanilla frosting. I also like lemon. And coconut.