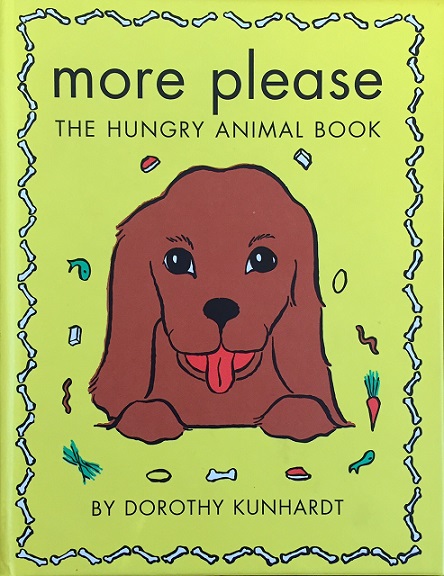 Dorothy Kunhardt is famous for writing Pat the Bunny. She also wrote More Please, which we discovered via Baguette's speech therapist and may be the most maddening thing we own.
Baguette calls it "Make a Doggie." I'm not sure why, because you don't do that. You "feed" tiny pieces of posterboard shaped and colored like various items into the die-cut mouths of animals.
From a technical standpoint, I'm impressed. This was not easy to create.
From a parental standpoint, ARE YOU FREAKING KIDDING ME????
The tiny pieces of posterboard are really tiny. Every time we read this book (and when it's in rotation, I'm talking four or five times a day), I have to do an inventory of the parts. The text is maddeningly simplistic and sing-song. And the illustrations are just bad.
But Baguette loves it, and it definitely plays into her affection for animals.
Oh, and if you lose any of those tiny pieces? Yeah, I can't find a replacement for less than $65 (a month ago, that price was $150). Hence the inventory.
If I didn't like that speech therapist so much, I'd feel like she owes us an apology.