I love roasted vegetables. Love, love, love them. It's not quite cool enough for that yet (although we did have a delightfully fall-like First Day of Fall). With temperatures in the 90s this week, I think I'd rather hold off.
But I do have a few fall dinner dishes that are easy to cook and don't make me feel like I've heated up the entire house. Some of them are soups. There's very little measuring in these recipes.
One of my standbys is black bean soup. I once had a co-worker who ate black bean soup every day. I'm not at that point, but I do like to have the ingredients for this one around: diced onion, diced carrots, a can of black beans, vegetable broth, and a variety of spices. I saute the onions and the carrots in olive oil, rinse and drain the black beans, saute them with the onion-carrot mixture, add the broth and some water, season, and simmer for at least an hour. Then I blend it with the immersion blender.
It's not very photogenic, so there's no photo. It is delicious, though.
A new introduction is corn chowder. This may sound like it should be a standby, but I haven't made it regularly in the past. This month, though, I came up with a recipe that I love and can easily make after I get home from work. Saute onions and then carrots in olive oil, dice a couple of small potatoes and mix them in, add vegetable broth and water, simmer until the potatoes are done, lower the heat a bit and add frozen corn and some half-and-half, and continue cooking until those ingredients are heated through. Somehow this winds up tasting buttery. I don't know exactly why, but it does, and I'm happy about it.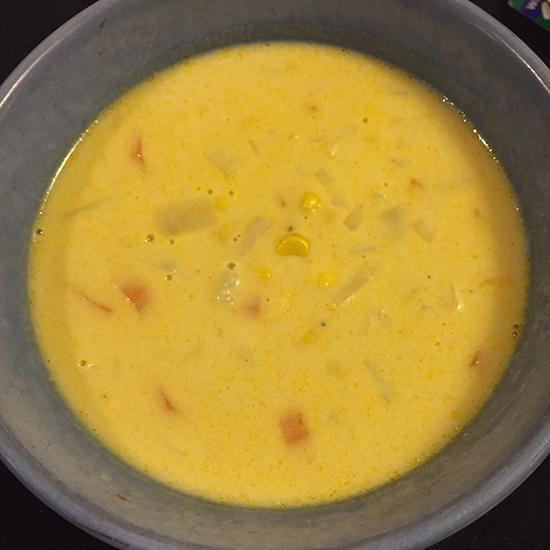 This next one I cook year-round. It makes me think of fall in the fall, but it is also a great summer recipe, so whatever. There is no sauce easier than Marcella Hazan's Tomato Sauce. If you haven't made it, you may be skeptical about it: A can of whole, peeled tomatoes; half a stick of butter; an onion sliced in half; a bit of salt. Remove the onion and blend the remainder. That's it. You think it needs basil and oregano and pepper and more. It doesn't. You just put this on top of pasta and eat. I'm not saying you're going to replace your regular recipe with this one–but, actually, I did.
Oh, and one more thing. Read labels and buy the low-sodium version of everything. You can add your own salt.
Beyond these? I've got a whole Pinterest board of recipes I hope to actually try, whether or not it's fall. Maybe someday.